Blorange is comprised of 8 blocks from Skill Builder BOM, 6 blocks from BlockRockin' BOW, and 2 of my own creations.  
I was inspired by this straight-line quilting on the Sprout and Bloom pillows by Jacquie of Tallgrass Prairie Studio.
I will no doubt use this quilting method again. It took only a couple hours to quilt up this 52″X52″ quilt.
For the back, I pieced together two of my recent bargain flannel prints. I really like how the back looks and feels! So. Cozy.  The binding was leftovers from my Ode to Grandma B quilt. I think it works perfectly. It was so great to get this one checked off at the last minute for 2013!
    Linking up:
Finish-a-long with Leann @ She can quilt Finish it up Friday @ Crazy Mom Quilts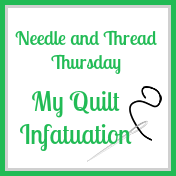 Follow on Bloglovin
7,623 total views, 1 views today