I've finished quilting my Riley Blake Basics Challenge quilt. Just need to bind it now. I have to say this is the most fun I've had with the actual quilting of a quilt – ever.  I'll put up a full post about it when it's completely finished.
Don't forget, there is still plenty of room in my stripe fabric charm swap. I bet you already have a yard or two of stripey fabric just sitting in your stash….
Whatcha been makin'?
Shop Amazon – Holiday Toy List
Linking up: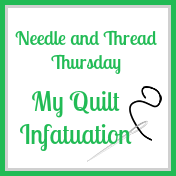 November To-Do:
December:
Nova nesting bowls Xmas
Pretty in patchwork sew along – advent calendar Nov – Started!
Pretty in patchwork sew along – trees all around tree skirt Dec
DS granny square quilt due 12/25 – ready for quilting

Riley Blake Basics Challenge – ready for quilting
Mug rug for AMQG Christmas party 12/12
Le Challenge "Precious" 12/15
Future projects 2014
Blue & Orange quilt Jan
McCall's M6560 top for ME due 2014
Dress for ME Simplicity 1800 due 2014
KF Swoon or Kaleidoscope due 2014
WTB mini 2014
Mhood mini 2014
Studio Cherie travel duffle 2014
M quilt with LV swap FQs & charms 2014
Michele Patterns Messenger bag 2014
Pearl bracelet charm beach bag or app quilt 2014
Niece!!! quilt 2/2014
Day in the park bag 2014
Jean bag 2014
Fabric flower belt 2014
LV rainbow chevron 2014
High low tank 2014
Bike basket for my girl 2014
Socialite dress 2014
Julia top 2014
2,280 total views, 1 views today