It's finished!
I sure hope my partner likes it.
I tried to center the butterflies (moths?) but I had a limited amount of fabric left. I consider this the front. The back is a little more off center.
I added one large interior pocket. In hindsight, I should have divided it or added a zipper or something. All the fabrics are Anna Maria Horner. I used the pleated tote tutorial over at the long thread.
This tote is going on a long journey, I hope it makes it there safely.
Have a great day!
Linking up: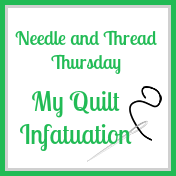 Finish it up Friday @ Crazy mom quilts
751 total views, 2 views today